Dr Trevor Thompson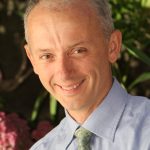 Trevor is an inner-city GP and Head of Teaching at the University of Bristol's Centre for Academic Primary Care. He is currently engaged in a wide-ranging reform of medical education at Bristol, heading up on helical themes including that of "Medical Humanities and Whole Person Care". His passion is for educational interventions that inform, challenge and inspire.
His first love is teaching but he also enjoys the intellectual challenge of research and the rigours and privileges of being a family physician. His motto is 'learning is fun'. Having completed a PhD ("Homeopathy – the Active Ingredients") in 2005 he designed and co-directed Bristol's Medical Humanities intercalation programme.
In 2012 he co-authored the book Sustainable Healthcare which explores the part medicine can play in easing our current environmental predicaments. Trevor is co-founder of the award-winning 'Whole Person Care' course for first-year students –see www.outofourheads.net for its artist outputs.
Devoted to public engagement, he is a founder of the Bristol's "Healthy City Week". Recent talks have included winsome titles like "The Green Death and Other Necessities" in which he explored the real costs of medical care at the end of life. When not at work he is at play with boats, bikes and books.
Session details:
Friday 4 November – Plenary Session
Time: 16:30
Room: Grand 1 & 2
What is health? Hahnemann the Systems Theorist